Citi® / AAdvantage® Platinum Select® World Elite™ Mastercard®
From good To very_good ( Credit Recommended 700 - 850 )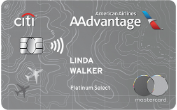 Citi AAdvantage Platinum Select is the best American Airlines credit card for light-spenders. The AAdvantage Platinum Select card has one of the lowest annual fees among American Airlines credit cards ($99, starting the second year), and its initial bonus (50,000 miles) is among the best values. New cardholders need to spend at least $2,500 within three months of opening an account to qualify for the bonus.
Read More

Lower than average purchase APRs.
Annual fee waived during the first year.
Multiple credit card perks.
No foreign transaction fee.
Cardholders can earn rewards on every purchase.
Earn rewards on every purchase.
Citi / AAdvantage Platinum Select World Elite Mastercard reports to multiple credit bureaus.
Cardholders can earn rewards on their purchases.
Requires good to excellent credit.
Charges an annual fee of $99
Charges a 3% balance transfer fee.
Cost
Annual Fee
$0 1st yr, $99 after
Purchase APR
15.99% - 24.99%
Foreign Transaction Fee
0%
If you hit the supermarket all the time, then you might want to look into getting a credit card that rewards you for getting groceries. Here's our take on the best credit cards for cash back on groceries.
While it can be difficult to get approved for a new credit card with a limited credit history, there are several major banks that offer credit cards designed specifically for college students. Students can get great cash back by using these cards.
If you're always going out to eat or ordering in, how does saving 4% on all that spending sound? Just don't fight over who gets to pay the bill.These cards are your best options for cash back on dining at restaurants.
Related Credit Card/Article