Ink Business Cash℠ Credit Card
From good To exceptional ( Credit Recommended 690-850 )
The Ink Business Cash℠ Credit Card can be a lucrative card for small-business owners who spend heavily in their top bonus categories and want a card with an annual fee of $0. And it welcomes new cardholders with a generous sign-up bonus. But its most lucrative rewards are capped, which hurts big spenders. And while its other rewards and features are decent, better options exist for heavy travelers willing to pay an annual fee. The Ink Business Cash℠ Credit Card is a capable cash-back rewards card, but some business owners will find a better fit elsewhere, even among other Chase business credit cards.
Read More

No annual fee
Intro APR period on Purchases
High rewards rates in certain categories
Sign-up bonus
Requires good/excellent credit
Spending caps in bonus categories
Low rewards rate outside bonus categories
Cost
Purchase APR
14.74% - 20.74%(V)
Foreign Transaction Fee
3%
The spending required to keep your small business or side hustle humming can also give you a boost toward your next trip — if you put those expenses on a credit card that offers travel rewards. Although entrepreneurs can use consumer travel cards for business expenses, a card specifically designed for business use can be more lucrative.
Whether you're looking to build credit from scratch or rebuild credit after a bad setback, a secured credit card can be an invaluable tool. Secured cards require you to provide a cash security deposit, usually equal to your credit line. The issuer holds the deposit in case you don't pay your bill; you get the deposit back when you upgrade to a regular "unsecured" card or close the account in good standing. Because the deposit protects the issuer from losing money, secured cards are easier for people with bad credit or no credit to qualify for.
Sometimes you may not know what your business expenses will be from month to month. If that's your situation, you may like a card with many different bonus categories, or categories that are flexible in some way.
The signup bonus — one of the most valuable and coveted credit card features, with the potential to put a huge dent in your spending or help you score free flights and hotel stays. Many rewards cards come with signup bonuses, also known as introductory bonuses or welcome bonuses. These bonus offers can provide a surprising amount of value, with returns on spending ranging from around 20% on average to more than 50% in some cases.
A flat-rate cash back credit card is a great choice for anyone who wants to save big without having to worry about strategic shopping or taking advantage of specific rewards. But some flat-rate cards are better than others.
Related Credit Card/Article
For business owners who travel frequently, the Capital One® Spark® Miles for Business is a simple but valuable choice. You'll earn double miles on your purchases, and that rate increases for hotel and rental car bookings made via Capital One Travel. Those miles are easy to redeem, too. You can use them toward various kinds of travel purchases — flights, hotels, vacation packages and more — or you can opt to transfer your miles to more than a dozen travel partners.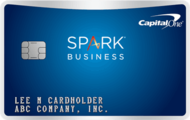 The Chase Ink Business Preferred offers a broad range of bonus categories that help cardholders maximize their rewards. Since the points you earn are ridiculously flexible, this card is ideal for business owners who want to redeem rewards in more than one way.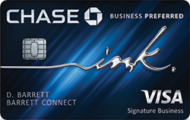 The Spark Cash gives business owners a straightforward way to earn easy cash back. You'll earn decent rewards on all your spending, no matter what expenses you have from month to month, and get some helpful business perks.