Target Credit Card
From good To very_good ( Credit Recommended 620 )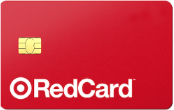 The Target REDcard is a must-have for Target regulars and one of the best store credit cards on the market. Its generous rewards will save you a bundle on every Target purchase. There are no fees to worry about. And it's available to everyone but folks with bad credit or very little credit experience.
Read More

Save 5% on most Target purchases
Don't worry about yearly fees
Enjoy 30 extra days for returns
Get free shipping from Target.com
Cost
Foreign Transaction Fee
N/A
Whether you're shopping for a last-minute gift, treating yourself to something nice or hunting for in-house bargains, your trip to a department store doesn't have to strain your wallet.The right credit card can put some money back in your pocket in the form of rewards. This way, you can splurge or save a little more — your choice.Here are some of credit cards that offer big rewards for department store purchases.
We offer up a unique value for consumers who are focused on buying lots of things for their homes. However, it's only available to use at certain stores.
When you're renovating a home or buying a new one, you face a lot of new costs: Everything from floor tiles to furniture to food is suddenly on your shopping list.Choosing the right credit card for those expenses can help you get the most out of your spending in the form of rewards. Here are our favorite credit cards for new homeowners.
Related Credit Card/Article