Citi Rewards+℠ Card
From good To exceptional ( Credit Recommended Good )
With the Citi Rewards+℠ Card, you can make the most of your everyday purchases by earning double ThankYou® Points at the supermarket and gas stations, for the first $6,000 per year and then 1 point on all other purchases. You can redeem for things like gift cards or for travel rewards. One of Citi's best rewards credit cards, the Citi Rewards+℠ Card gives you all this with a low introductory APR and no annual fee.*
Read More

Earn 2 ThankYou® Points per $1 spent at supermarkets and gas stations for the first $6,000 per year and 1 point per $1 spent thereafter.2
The Citi Rewards+ Card is the only card that automatically rounds up to the nearest 10
points on every purchase – a $2 cup of coffee can earn 10 points. All with No Annual Fee*
Cost
Foreign Transaction Fee
Rewards credit cards come in two main varieties: cash-back cards and travel cards. Cash-back cards pay you back a percentage of the amount of each transaction. Travel rewards credit cards give you points or miles for each dollar you spend; you redeem those rewards for free flights, hotel stays and more. No single rewards card is right for everyone. It's all about how you spend money and what kind of rewards you value.
Frequent travelers can get a lot out of the Chase Sapphire Reserve® (Review). Cardholders enjoy an excellent rewards rate on travel and dining, valuable travel benefits that are easy to take advantage of, and diverse travel partners for point transfers. Wondering if you should go with the Sapphire Reserve or the less-expensive Chase Sapphire Preferred® Card (Review)? Read our comparison of the Chase Sapphire Reserve vs. Sapphire Preferred.
Related Credit Card/Article
The United Explorer Card definitely isn't your run-of-the-mill airline credit card. Between TSA PreCheck fee credit, annual lounge visits and Luxury Hotel & Resort Collection access, the card is jam-packed with perks that will enhance your trips from start to finish — not just when you're in the air.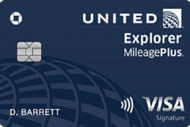 The Delta SkyMiles Reserve Credit Card from American Express offers some of the most sought after perks frequent flyers crave, including complimentary airport lounge access. You won't earn a lot of miles for award flights on non-travel purchases, but your Delta spending will put you on the fast track to elite status in the airline frequent flyer program. If you love traveling in comfort and you're loyal to Delta Air Lines, this card warrants consideration.